You hear the word constantly. It's seemingly forced into every personal and professional conversation. Hell, even strangers can't wait to shove it right up your ass when given the opportunity. It's become social currency in an age obsessed with productivity.
"Busy"
It feels good to say, right? It projects ambition, relevance and superiority. And isn't that all that matters? The image you project of yourself? That delicious little confection that is validation gained through the opinion of the crowd. Momentarily intoxicating and completely devoid of substance. An artificial inflation of one's ego simply for the sake of it. Whether you're "busy" working at something you truly care about is an afterthought as long as everyone is impressed. It's much easier to mold the way you're perceived, constructing an elaborate facade to mask the flaws, than to pick up a hammer and start fixing what's broke.
"If you're fanatical enough about enacting and enforcing your fiction, it comes indistinguishable from nonfiction."
Perhaps I'm more sensitive to the word than most. Growing up it was, and continues to be, the all-encompassing choice and excuse for many in my family. The admission of free time is seen as equivalent to dispensability. Endlessly spinning their wheels because it was all they have ever known and were terrified of the uncertainty that came with breaking routine. I'm sure some or all would claim to be driven by vision or passion, and I could make the case for a few, but from my vantage point, narcissism and cowardice have their grip firmly on the wheel.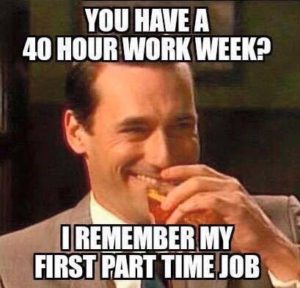 The narcissism in flaunting the word is subtle by design. It carries with it a tone of self-importance and the assertion that one finds themselves to be operating at maximum capacity, preemptively lowering expectations imposed upon them and providing an escape route from any commitment they may be held to. It's a vehicle utilized to exercise avoidance, allowing the mobility to abandon obligation in pursuit of selfish whims. Its every utterance serving as a brick to slowly construct a wall between one's unfettered comfort and the complications presented through tending the needs of others. The word serves as a tool to manipulate through a portrayal of powerlessness to wield influence over one's life and suggest resentment of their burden. Diminishing those who humbly bear their own while demanding pity and favor for a victim of one's own creation.
Inspiration behind the grand masquerade of "busy" is purpose, or lack thereof. There are few, if any, greater sources of contentment than an informed and manifested sense of purpose, but purpose is something that must be cultivated organically through experience. Vulnerable, challenging and even painful, but all-important and formative, experience. Experience hones instinct. Instinct informs choices. Choices aim the trajectory of life. In the absence of honest self-discovery, purpose is manufactured. Purpose informed by roughly translated philosophies gleaned from those who have attained what is imagined to be "success", but when lacking the wisdom of experience, that picture is merely a blueprint for a life ill-fitted to the unique foundation that is one's character.
Forcefully chasing a life never intended can feel like progress, but when the action one takes in life fails to align with their truth, an infinite loop of stagnation and dissatisfaction is inevitably found. The value offered by distractions such as status and material wealth erode over time. The insatiable desire for more propels action and can imitate a sense of purpose, but merely serves as a veil to conceal the greatest cowardice of all: avoiding that which is necessary to reach true potential. The projection of busyness driven by manufactured purpose masks the discontent that festers from everyone but who truly matters, the self.
Busyness can also serve as a camouflage for one's need for control. We all know the quote, "Life is what happens to you while you're busy making other plans". It's absolutely vital to have and achieve long and short term goals in order to maintain momentum towards the vision that is the outcome of one's life, which requires diligence. However, it's arrogant to believe with any certainty that what will ultimately define one's life has already been revealed. It's a constant, ever-evolving pursuit that requires presence in the moment to recognize the opportunities for growth as they come and the courage to seize them, relinquishing control over their outcomes while remaining open to whatever lessons they provide.
Let me be clear. "Busy" is not an inherently evil word. This is not a popular take these days, but I believe words have the power you give them. Without a set of ears to receive and interpret it, a word is just a noise. The intent of a chosen word is what truly matters and context endows it with deeper meaning. However, nuance isn't winning any popularity contests right now, and nuance certainly doesn't make for a salacious headline or viral tweet, but I digress.
Generally the "B" word is innocuous and a preferred alternative to laboring others with the trivial details of your day-to-day. I would even say most don't intend anything nefarious through its use whatsoever, more of a thoughtless deflection, but therein lies the problem: thoughtlessness. Despite our collective obsession with displaying virtue through policing others and their use of proper language towards perfect strangers in the name of inclusion, we fail to examine how we treat the people standing right in front of us. Is telling someone you're "too busy" for them, whatever that may entail, a constructive or respectful way to communicate? Are the words you chose conveying the meaning you intend? Are you accommodating out of fear of judgment when you would be best served simply saying, "no"? Our culture has subscribed to the childish notion that our feelings have value to anyone but ourselves while abandoning the responsibility for consequences of the feelings we inflict upon others. It's time to look in the mirror.
There was a stretch in my life well occupied in maintaining a front and building walls of my own, "too busy" for anything but pointless preoccupations, dulling pleasures and self-pity, even for the things and people I loved. The majority of my choices were rooted in avoidance of that which would cause pain, embarrassment or failure. Anything to keep me out of my head but nothing that would force me to face the responsibilities I had to myself. A myriad of factors contributed to this spell, but what I eventually emerged with was a sense of urgency. The ache of time squandered through the prime of my life, and the building shame of seeing the direction I was headed, motivated overdue self-examination. It was a painful realization, coming to grips with the fact that the world isn't to blame for your plot in life, but shame can be a powerful catalyst for change.
I began to transform my portrayal of busyness into actual busyness, which acted as a replacement for old comforting vices as my primary coping mechanism. However rudderless, the discovery that I had the strength to take action was a spark that lit the flame of a newfound sense of empowerment. The looming meaninglessness of my life kept me humble and constantly reassessing whether the action I was taking corresponded with remedying the absence of purpose. As the fog began to clear, giving way to important lessons embedded in honest reflection, a slow and arduous process of learning to get out of my own way and not succumb to resistance followed. I had found no answers to my dilemma, but I was opening my boundaries and taking responsibility for myself.
The ability of many to take action in their own lives is often crippled by fear and doubt. They would sacrifice anything if only they could overcome it. As much as I now believe that getting what you want is all about getting off your ass and getting it, I've been on both sides and know things aren't as conveniently black and white as we'd all like them to be. I'm very grateful in that I've been positioned on a collision course with such a rich variety of things that make me passionate about living when I know people personally who are desperately searching for just one. While the responsibilities I carry can be burdensome at times, they are burdens of my choosing, and through bearing them I've made myself an asset to others which is a constant source of gratification.
Ultimately the value of "busy" is dictated by our choices. When those choices are aligned with that which brings us satisfaction and meaning, it can be an absolute gift. When it's used as a term to deflect or excuse one's obligations, rejecting opportunity in favor of safety, it's a manifestation of fear and weakness. Some of the happiest, most gracious people I know are also the busiest, but you're likely to never hear them depict themselves as such which is intentional. They know the path laid behind them and celebrate the chance they have in every moment to take advantage of new opportunities.
In that same vein, I'm infinitely grateful to be busy and have no desire to diminish others by touting my good fortune, nor do I wish to follow in the footsteps of my forebears and project that the people that want to be a part of my life are obstacles to be overcome in my pursuit. As the old adage goes, "You don't have time unless you make time", and I will always fight my nature to face new challenges, as well as maintain a willingness to put my responsibilities on hold to appreciate a moment shared with those who enrich the enjoyment of my life.  What about you?