Way back in early August of 1996, my parents hauled my brother and I to the Spring Creek Outdoor National in Millville, Minnesota. It was a trip they had been making for many years, but prior to this point, had dumped us off at my grandparents' as the setting was generally unsuitable for children. If I were to guess what the temperature was that formative afternoon as I beheld those unworldly masters of the gnar shred beneath the unyielding sun, I would say it was right around 187 degrees. The heat was punishing, but I was so enamored by the spectacle on the track, I couldn't be bothered with it. I had been exposed to the sport through dirt bike magazines my old man had stacked up next to the shitter throughout my childhood, but my interest was only held for the duration of my time upon the porcelain throne. Seeing the action live and in-person gave me a whole new perspective on, and appreciation for, what was being achieved. I fell in love with the sport of Motocross right then and there.
The following winter, the 'rents gave me another taste of the sweet, sweet action, taking us along for the trek up to the Metrodome in Minneapolis in mid-March of 1997. Jeremy McGrath, winningest Supercross rider of all-time and THE legend of the sport, was coming into the season as a heavy favorite with four 250cc Supercross titles in a row. (For the uninitiated, Motocross is outdoor racing and Supercross is held in a stadium.) However, a late off-season manufacturer switch from the juggernaut factory Honda team had resulted in lack of preparation and an abysmal season (by his standard) aboard Suzuki. McGrath was my hero, as well as anyone else's who happened to watch the sport at the time. He was, and remains, the most popular, charismatic, and entertaining racer to ever throw a leg over a bike. His struggle was hard to watch that season, and on that night his defeat seemed imminent, but over the course of his career, when Jeremy stepped into the Metrodome, it was, as his nickname suggested, "showtime". In front of my adoring eyes, he went on to grab his first win of the season in impressive fashion.
Ever since those days, I've been going to Millville & Minneapolis (occasionally St. Louis when Minnie wasn't on the schedule) every year. Also since those days, my immediate family has become a full-blown shit-show. Bonding and tradition isn't exactly on the menu, but I remember better and simpler times every time I step foot on the track. I look forward to Andrea and I sharing the experience with our little ones some day and maybe it will become our own little family tradition. Then again, I'm not sure Andrea's keen on the idea of future tots taking a shine to dirt bikes.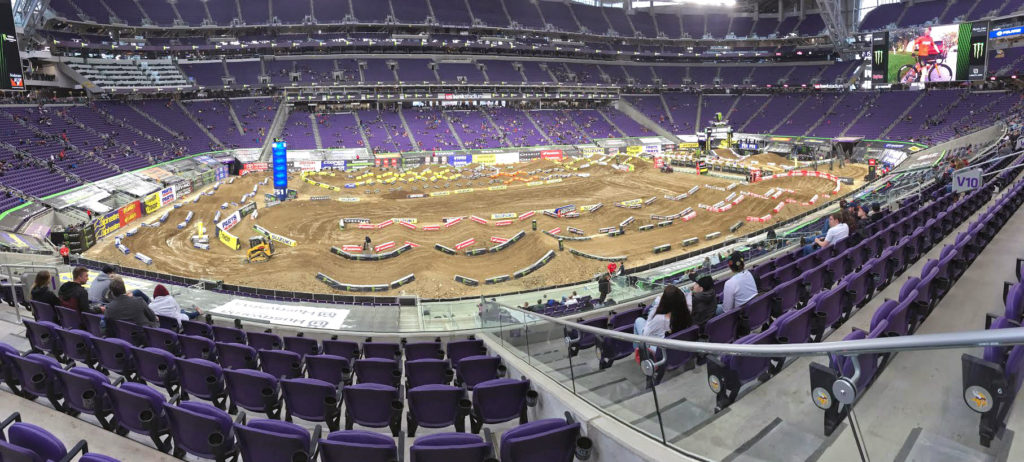 For 2018, the Minneapolis round of the series was scheduled in April, which I was absolutely thrilled about. Typically the event is in the middle of March, and Minnesota around that time of year is predictably frigid. Again, it's an indoor event, so I don't expect tears to be shed on our behalf, but the idea of potentially being able to comfortably stroll around downtown Minneapolis after all these years of suffering the cold definitely sounded downright delightful. Hell, even if it's cold, it's likely to be tolerable in April, right?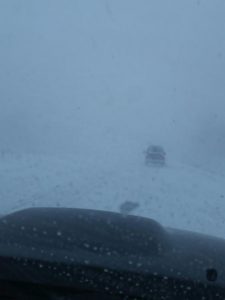 Well, the price was wrong…bitch. Instead, our stay in town included a record-setting blizzard. 14.9 inches of snow, the largest April snowstorm in Twin Cities history, breaking the previous 1983 record of 13.6 inches. We got lucky, though. We drove in the night prior to the event. The snow had just started coming down as we wrapped up dinner down at the 8th Street Grill. Andrea's dad, however, was not so lucky. Kevin decided to drive into town the morning of, facing the brunt of the storm nearly the entire way and turning a 4-hour trip into nearly 8-hours of 30mph hell. We were quietly pleased with our decision-making fortune. The storm maintained momentum through the event, but fortunately we locked down a hotel with skywalk access to the stadium, and by the time we were ready to bail, we had a fairly clear path home. All-in-all, we barely had to deal with the storm at all. So while it would have been cool to enjoy a little springtime in Minnie-town, a historic blizzard made for a pretty memorable experience.
Anyway, I shot some video to capture the day just for fun and a chance to polish my rough live event skills. As previously stated, once it got warm out I've been actively avoiding unnecessary monitor time, so editing the footage was something I just never really made time for. However, my surgery and subsequent ass-time provided me the opportunity to knock it out, so here you have it! Enjoy.